www.ournavy.org.uk
Webmaster:
David Clover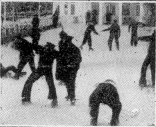 ---
Newspaper References
A full set of newspaper references found so far covering West's photographic (1881-1897) and cinematographic (1898-1913) career is available online and will be updated periodically.
---
Alfred John West (1857-1937) was a film pioneer active from 1897 to 1913 and an award winning marine photographer from the mid 1880s to 1900. His family were all involved in the business founded by his photographer father, (also a Master Carpenter) George West at 97 High Street in Gosport. He later moved to 'Rozel' at 7 Villiers Road, Southsea, opened photographic studios at 72 and 84 Palmerston Road Southsea. Towards the end of his life he moved from Totland Bay in the Isle of Wight where he had a smallholding to 20 Southsea Terrace in Portsmouth (the same house where Peter Sellers the character actor was born in 1920), He then spent a short time at 18 Wimbledon Park Road, Southsea. He died on 10 January 1937 in a Southsea nursing home after a short illness and is buried with his wife Elizabeth Lucy (1858-1930) in Highland Road Cemetery (E Plot, Row 19, Grave 14).
His contemporary Obituary says 'His claim to be " the grandfather of the films " is one that cannot be challenged'
A.J. West claimed to be amongst the first (after R.W. Paul) to exhibit publicly in the UK, and his films of nautical and Naval subjects were presented under the general title of 'Our Navy'.
He also showed his films privately to Queen Victoria in 1898 and Edward VII in 1901 - these were some of the earliest 'Royal Command' film performances in the UK.
---
West's own story
His unpublished autobiography (1936) - 'Sea Salts and Celluloid' is offered here in faithful PDF transcription from the original typescript. It has been offered for publication, but has not so far found a willing publisher.
West was encouraged and assisted in writing his memoirs by his Grandson, Antony (Tony) Scott Clover (1917-1998), who was himself an amateur film-maker in the 1930s in Portsmouth. The present work is being carried out by West's Great Grandson - David Clover The direct male descendant is Simon West who lives in Australia.
---
History
Alfred John West FRGS (born 01/08/1857) was married to Elizabeth Lucy West (née House and born 08/02/1858). Elizabeth Lucy West was the eldest of the 18 children of Charles William House and Marian House (nee Harvey) of Alverstoke, Gosport, Hants. As well as G. M. Clover, she and Alfred West had two sons, the elder being Frederick Charles who emigrated to Australia before 1914, joined the Australian Imperial Force on 22 August 1914 a month after the declaration of war, embarked from Fremantle on 2 November 1914 and served as a Sergeant with the Royal Australian Field Artillery Brigade 3, Battery 8 in Gallipoli, then in the Middle East and the Western Front. He returned on 25 February 1919 to develop a cereal and sheep farm 'Cumuldarnup' (meaning "Breeding place of possums") ten miles South of the township of Ongerup, and about 80 miles NNE of the port of Albany on the South Coast of Western Australia. He married Violet Attree (of Southsea) and they had two sons, Michael and Gerald. Alfred West's younger son, John Albert, married late in life and had no children.
---
G West and Son, Gosport
A.J. West and his brother, George, were partners in the firm of "G West and Son", Photographers of Gosport and Southsea. In about 1880, A.J. West started to specialise in photographing the racing yachts of the time, and due to his invention of an instantaneous shutter on his camera, he was the first photographer to take close-up pictures of yachts under way at speed, and he was awarded many medals for his pictures (the most famous of them being the "Mohawk" - see right hand column) both in the UK and in other countries including the USA.
In 1897 he took up the then new art of cinematography, and eventually abandoned yacht photography, selling his archive of plates and copyright to Alfred and Frank Beken of Cowes (though not till 1913) where they can still be inspected. West's plates at Beken's are said to be numbered from 500 to 10250. They have been transferred to the Brett Gallery and are being scanned and catalogued for the creation of high quality large scale art prints.
Preserving West's Plates

The Brett Gallery at Midhurst now supplies high-quality reproductions of West's yachting photographs digitised from the original plates.

There's an account there of how an original glass plate is prepared by the Brett Gallery to make a superb modern large scale print.
---
Our Navy Cinematographic Exhibitions
The film company 'Our Navy' was incorporated in 1902 as Limited Company number: 72532

West's documentary films of life in the Navy and the Army became a most successful venture, shows of his films travelling round the UK and to Canada, Australia and India. And he also had a permanent exhibition of his films at the Polytechnic Institute, Regent Street , (history link - University of Westminster Contemporary reports) London, with a new programme being put on every year, featuring not only scenes of activity in the Services, but also footage filmed in various of this country's then Colonies and Dominions. He received Royal Commands to show his films at Osborne to Queen Victoria (taken in 1898 on board HMS CRESCENT commanded by her grandson George, Duke of York), the Duke and Duchess of York (also in 1898 on return of HMS CRESCENT to Portsmouth) and Edward VII at Sandringham (in 1901 on return of SS OPHIR from a world cruise with the Prince and Princess of Wales on board). Alfred West died on 10th January 1937.
---
Surviving Films and Pictures
Although believed lost for many years, a few of A.J.West's film sequences have survived, and have been positively identified by relating them to the detailed catalogue he prepared when the business was sold in 1913. (Full PDF facsimile catalogue 5.2Mb Text transcript 178k) A paper original copy is held in the British Library). Some of West's film material is held by the Wessex Film & Sound Archive, Hampshire Record Office, Winchester, UK who can arrange broadcast quality versions.
Postcard material from the 'Our Navy' series is currently being collated as an academic project at Portsmouth University by George Malcomson
There is also a large collection of pictures in albums being collated by Elizabeth Gibbon, Curator, Historic Photographs & Ship Plans at the National Maritime Museum in Greenwich. This is part of the 'Richard Perkins collection' of over 12,000 negatives, which includes a collection of West negatives of Royal Naval vessels photographed at Portsmouth between 1887-1920.
The Internet Movie Database also catalogues a number of clips from 1898 and 1904, though it is not yet known if this means that more material exists in archives. If material is found, please contact the webmaster of this website or the Wessex Sound and Film Archive linked below.
---
West in context
As part of his studies at the University of East Anglia, Russell Baldwin has written a valuable thesis (PDF format) based around the life of A.J.West which places him for the first time in his historic and cultural context.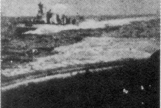 This website has been compiled from material held in the Clover Family archives, and is presented in the hope that A.J.West's pioneering work as a cinematographer and photographer will come to further notice. There is much additional material in the Wessex Sound and Film Archive at Winchester and in the Barnes Collection Archive at the Hove Museum as well as in The National Maritime Museum, Beken of Cowes, and under collection and study at Portsmouth University.
---
See Also:
Webmaster: David Clover
www.ournavy.org.uk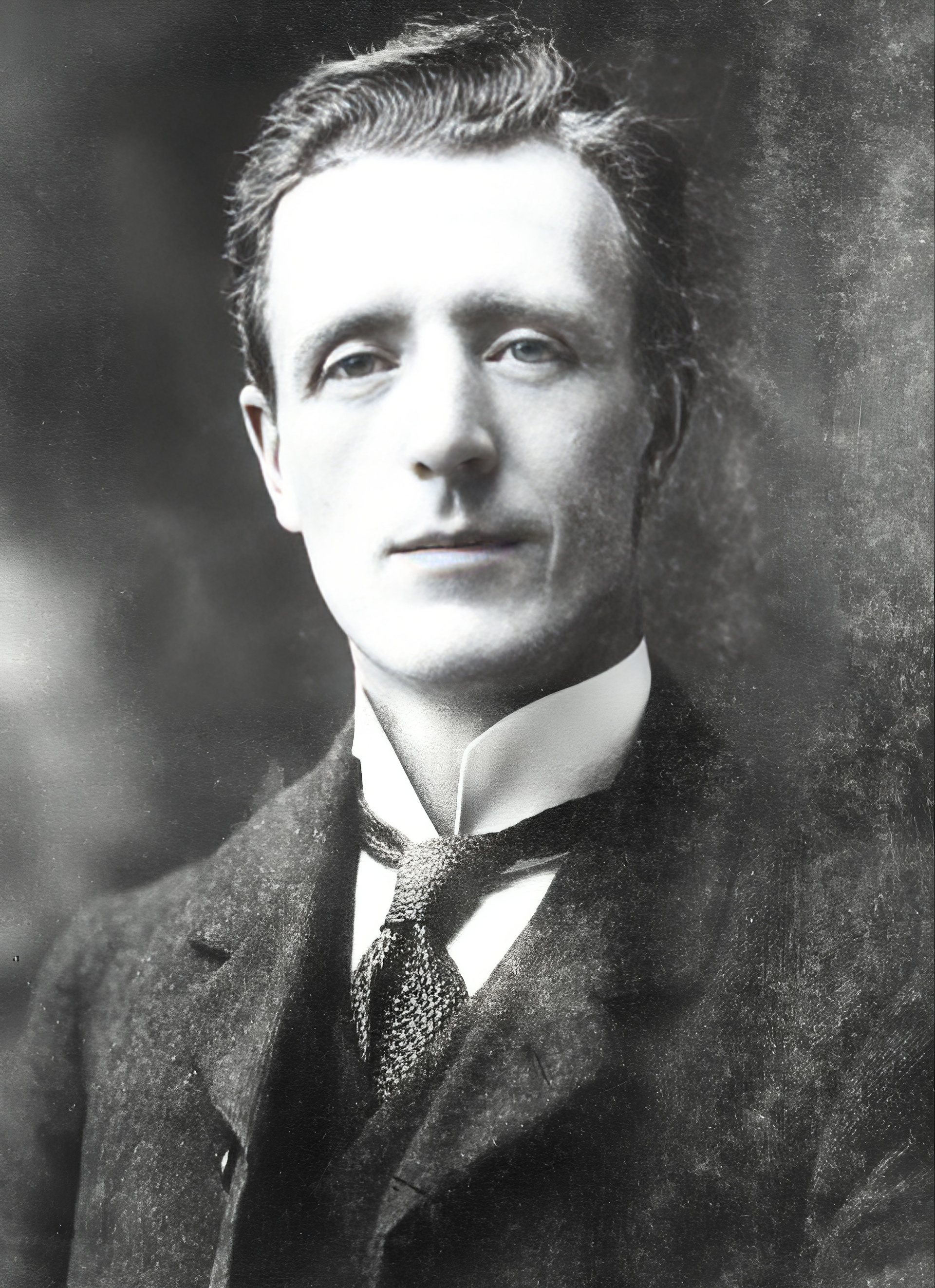 Above: Photo - Pioneers of the British Film, John Barnes, Bishopsgate Press, 1983, ISBN 1-85219-012-4
Top left: 9 frame clip showing sailors at a skating rink, Southsea Promenade Circa. 1900- clip stored as series of photographed contact frames from the margin of the complete printed catalogue (PDF Format) of films prepared when West sold the 'Our Navy' business in 1913.(This document is also held in the British Library as UIN BLL01003893947,Shelfmark(s): General Reference Collection 8829.k.34
Foot of column: Two frame animation of the 'Turbinia' at speed in 1897 from the same film catalogue
Below: The 'Mohawk' racing off Hurst Castle at the Royal Southampton Regatta in 1884 - photographed in the act of winning a first prize. This photograph was awarded the Gold Medal at the St Louis Convention for which 9 other countries competed. Note the crew member at the cross-trees retrieving the flying outhaul. AJ West reported that this rope nearly got tangled in his own craft (see his Autobiography)
(Copyright Beken of Cowes)
Below: Typical format of a white ink attribution embossed on a framed photograph

Below: The 'Chittywee' owned by Lord Francis Cecil was photographed racing at the Royal Portsmouth Corinthian Yacht Club Regatta in Osborne Bay in the year 1882.
(Copyright Beken of Cowes) Also submitted for the St Louis Convention Gold Medal.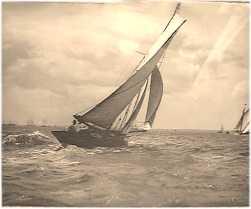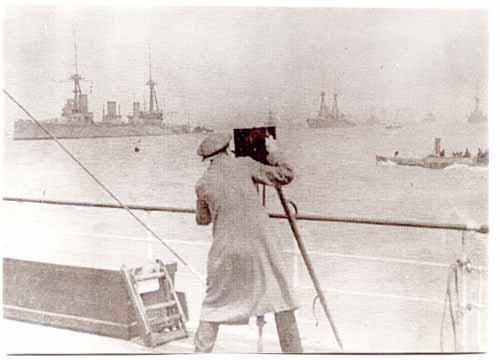 A.J. West filming at the Fleet Review in 1911. Shows Battleship 'HMS Indefatigable' on left
(Wessex Film Archive)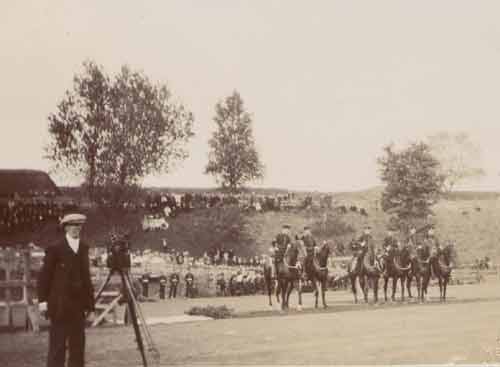 A.J.West and camera filming 'Our Army' sequences
(George Malcolmson).
"… Mr Alfred West has accomplished with
his pictures what Mr. Rudyard Kipling
has done in story and verse …………….."
'MORNING POST', 1905
---
QR Link


If you have a mobile phone with a QR scanner app installed, you can open this page on it directly by pointing at it now with the phone's camera. With his flair for publicity, it's a a technology that AJ West would have loved!